Thermiva Vaginal Rejuvenation
Forty is the New Twenty; Fifty is the New Thirty, and Sixty is the New Forty
No small problem, the prevalence of sexual dysfunction among all women is estimated to be between 25% and 63%.  The prevalence in postmenopausal women is even higher, between 68% and 86.5%. (1)In our practice, admittedly a skewed population, the rate of sexual dysfunction is as high as 80-90%.
In 2016 we introduced the O-Shot,  our first "game changer."  One of our most popular procedures, the O-Shot, via autologous (i.e., your own blood products) injections, rejuvenates the vaginal vault and the clitoris creating a reawakening the orgasmic response.
We are proud to introduce our second "game changer," ThermiVa.  ThermiVa is a non-surgical, temperature controlled, radiofrequency that delivers lasting improvements in sexual desire, vaginal sensitivity, intensity, and ease of orgasm. And, similar to the O-Shot, a "side effect" of ThermiVa is an approximate 85% improvement in urinary continence.
Common after childbirth, and thought of a consequence of aging, excessive relaxation of the vaginal muscles diminishes intimacy, reduces sexual desire, sexual satisfaction and changes relationships between partners.  And that's just on the inside.  Even "down there," appearance counts. External skin laxity also suffers the slings and arrows of the aging process.
Take Control
When it's "play" time, it's great being in control.  Great relationships are difficult in the best of circumstances.  A lack of or perceived lack of intimacy is a major factor in spousal strife.
Heat Your Way to a New, Refreshed You
Heat, applied to tissues improves the microcirculation of the treated area. The end result is a new layer of collagen to strengthening, tightening and thickening of the underlying support structures.
Reclaim Yourself
Edna Turnblad in the song "You're Timeless to Me (2)," from the Broadway musical and movie, "Hairspray," said it best: "We can toast the fact we ain't dead yet. (3) You are in there somewhere.  ThermiVa restores that youthful spring and appearance once thought lost forever.
A renewed you during those "private" moments, can rekindle an old flame, or start a new one.
Benefits
ThermiVa is the first and only temperature controlled, radiofrequency, in-office, nonsurgical treatment to promote collagen remodeling and restoration of aging and sagging vaginal tissues.  (4)
How Does ThermiVa Work?
ThermiVa delivers controlled thermal energy to the skin and muscles of the vaginal walls and the external genitalia.  The underlying structures contract, stimulating collagen growth and remodeling.  The result is a new, thicker collagen layer under the skin and a subsequent tightening and renewal of the surface.
Why ThermiVa?
No pain
No anesthetic required
No downtime
The entire vaginal vault is treated internally and externally
The result is a restored youthful appearance
3 treatments 1 month apart are recommended.
The results are synergistic. 1 treatment +1 treatment +1 treatment =10, not 3 as expected.
The effects last 1-2 years.
Followups: 1 treatment/ per year to two after that.
ThermiVa can be performed 6-8 weeks after pregnancy
ThermiVA improves vaginal moisture and comfort
There is an 85% reduction in urinary incontinence
The Orgasmic Response is reawakened and restored
Total treatment time, on average, less than 30 minutes
The Science
Radiofrequency stimulates the nerves of the vaginal wall to release neuropeptides.
These neuropeptides signal the blood vessel walls to relax increasing circulation.
Increased circulation to the vaginal vault results in restored lubrication of the vaginal canal.
The Clitoral area, the head, arms, and saddlebags, containing approximately 8000 nerve endings, upregulates neuronal responsiveness to radio frequency applications.
Radiofrequency upregulates nerve sensitivity in the area.
Safety
As radiofrequency is not absorbed by melanin, ThermiVa is safe for all skin types .(5)
A single use S-shaped RF applicator, contoured for the vaginal vault and external genitalia delivers energy via a thermistor tip.(6)
Temperature controlled
To date, no burns reported
You are a Candidate for ThermiVa if you Experience: (7)
Vaginal laxity. "Loose skin."
Vaginal Dryness
Urinary Incontinence, i.e., " A Leaky Bladder"
A Cystocele, i.e., "A Fallen Bladder."
Poor Orgasms
Laxity of the Skin of the Outer Genitalia, i.e., "I don't look like my self down there anymore."
I've Heard of a CO2  Laser System Claiming to be Superior.  What's the Skinny on Radiofrequency versus Laser Treatment?
The Mona Lisa Touch is a CO2  laser that punches micro holes into the vaginal wall.  Local and rarely general anesthesia may be necessary for patient comfort.(8) Side effects include redness, swelling, and discomfort.  On average, there is a downtime of 3 three days.
The Mona Lisa Touch treats internal vaginal tissue only.  Fractional CO2  lasers are not indicated for the labia or other external structures.
Both ThermiVaand the Mona Lisa Touch treat incontinence, vaginal dryness, and vaginal laxity.  Both are non-hormonal, stimulate the body's natural collagen, are minimally or non-invasive and can be done in the office,
The difference is the energy source as a means to our desired end.  ThermiVa'sradiofrequency  generates heat; the MonaLisa Touch is a laser. ThermiVa's treatment instrument is a wand no more narrow than a finger. The MonaLisa Touch laser is an inch in diameter.
ThermiVa patients generally do not report any side effects.   MonaLisa Touch patients complain of redness, swelling and discomfort.
Downtime and physical restrictions with ThermiVa are zero.  MonaLisa Touch recommends 1-3 days and light physical restrictions post therapy.
A monthly, 3 treatment regimen with ThermiVamaylast 2-3 years.  The MonaLisa Touch?  Treatments can last 40-60 days.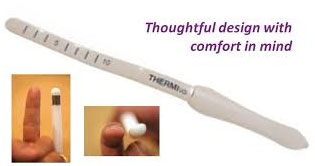 ThermiVacan be used on the external genitalia, the labia major and minor and the clitoral area. The MonaLisa Touch only treats the inside tissues of the vagina.
Thermiva versus the Mona Lisa Touch
ThermiVa
Mona Lisa Touch
Radiofrequency
Fractional CO2 Laser
Heat promotes Blood Flow and Collagen Stimulation
Heat and Ablation Increase Blood Flow, Collagen Production
No Anaesthesia
Local Anesthesia; Rarely General Anesthesia
No Downtime
On Average: 3 days
30 minute appointment
30 Minute Appointment
3 treatments/4 wks apart
3 treatments/6 weeks apart
Treatment Zone:

Atrophic Vulvovaginitis: Non-hormonal
Stress Incontinence
Labia Majora Laxity
Overactive Bladder
Vaginal Laxity
Pelvic Prolapse
Orgasmic Dysfunction: 50% average reduction time to achieve
Repetitive Vaginitis: Normalizes vaginal pH
Repetitive UTI: Normalizes vaginal tissues
Lichen Sclerosis and Hyperplastic Dystrophy: Adjunct to steroid and PRP

Treatment Zone:

Atrophic Vulvovaginitis: Non-hormonal
Stress Incontinence
Repetitive Vaginitis
Repetitive UTI

Lasts 12 months; Yearly Maintenance
Lasts 12 months; Yearly Maintenance
On balance, the ThermiVa radiofrequency device is the superior method for addressing those women struggling with vaginal dryness, skin laxity, urinary incontinence and orgasmic dysfunction. ThermiVa is a no downtime, no potential for damaging tissue as the Mona Lisa Touch can, solution for today's "post-baby" and "forty is the new twenty, fifty is the new thirty and sixty is the new forty," lifestyle.
References
Dana R Ambler, DO,1 Eric J Bieber, MD, Chief Medical Officer,2 and Michael P Diamond, MD, Sexual Function in Elderly Women: A Review of Current Literature, Rev Obstet Gynecol. 2012; 5(1): 16–27. https://www.ncbi.nlm.nih.gov/pubmed/22582123
https://www.pinterest.com/pin/307441112041135113/ (accessed October 01, 2017)
CherylKarcherMDaNeilSadickMD, Vaginal rejuvenation using energy-based devices; International Journal of Women's Dermatology, Volume 2, Issue 3, September 2016, Pages 85-88
CherylKarcherMDaNeilSadickMD, Vaginal rejuvenation using energy-based devices; International Journal of Women's Dermatology, Volume 2, Issue 3, September 2016, Pages 85-88