Are You Ready To Improve Your Health In The Next 10 Days?
At Clearfield Medical Group
we strongly believe to provide the best matching treatments to our patients. If you want to reverse the signs of aging and have a refreshed look you can also try non-surgical treatments. If you are looking for the best medical spa in Reno, NV for a quick Botox, Dermal Fillers, Latisse® or the best weight loss treatments, we offer it all.
With more than 33 years of experience Dr. William Clearfield, D.O. provides patients with the best treatments at Clearfield Medical Group. Dr. William Clearfield provides a wide range of services. Including Botox, Thermiva Vaginal Rejuvenation, CMG Facelift and more. Contact us today for a consultation.
2nd Global Webinar on Traditional and Alternative Medicine February 22-24, 2021
Title of the speech: "Endocrinology of Autism"
Plenary Speaker: Dr William Clearfield, American Ostepathic Society of Rheumatic Diseases United States
Evoke – Hands-Free Facial Remodeling
The first and only all-in-one hands-free facial remodeling device cleared by the FDA.  Evoke delivers non-invasive three dimensional Subdermal remodeling.
Facial remodeling is the #1 aesthetic procedure patients are seeking in their quest to achieve a more youthful appearance without anesthesia, surgical scars, or downtime.
Evoke's proprietary non-invasive technology is an industry first, delivering a structural reorganization of the facial and submental tissues. The remodeling of these areas produces results that are associated with a youth appearance.
Evoke is The only hands-free platform available to remodel facial tissue and structurally reorganize tissue to deliver a younger looking appearance.
Evoke deploys proven bipolar radiofrequency energy to the cheeks, jowls, submental area, and jawline.
By directly targeting these areas, Evoke remodels skin and  subdermal tissue to deliver more defined facial characteristics.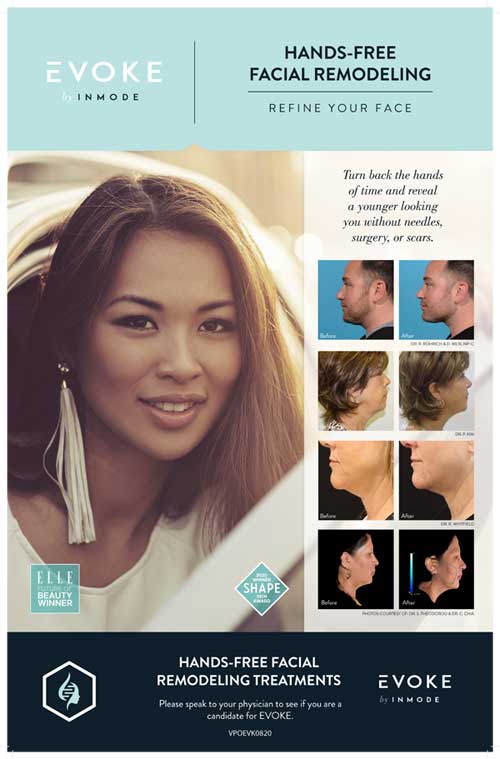 Bioidentical Hormones
Bioidentical hormones are an exact replication of the hormones naturally produced by the body in terms of cell and chemical structure. They are derived from plant extracts and manufactured by compounding pharmacies to be of maximum benefit to the patient.
Pellet Therapy
Anyone living in Northeast Pennsylvania will attest to the fact that if you haven't been out of the cold and snow for at least a short period by March, you are a newborn pup and Seasonal Affective Disorder is your Mama, leading you around by the scruff of your neck.
Weight Loss Program
"Quick" is in in parentheses because, time and again, those of us in the healthcare community hear the refrain, "I want to lose weight," and when admonished that "slow is the way to go," "it's a learning process with many facets and no I'm not hiding the secret pill
The Hair Restoration Project
The Hair Restoration Project is a 90 minute procedure beginning with our patented PRP harvest. We apply local anesthetics to the scalp, combine the PRP with biomatrix nutrients, then inject the full scalp, or localized areas, such as the eyebrows or beard.
PRP Joint Injections
PRP injections are all the rage in top athletes looking to return to the field quickly. Tendonitis, muscle tears, ligament injuries, torn meniscus, and mild to moderate arthritic joint dysfunction are prime candidates for PRP injections.
CMG Facelift®
The CMG FaceLift® combines extracted platelet rich fibrin matrix with hyaluronic acid (HA) fillers, our preference is Juvederm, to deliver a youthful, naturally fresh new face.
Vampire Breast Lift®
he Vampire Breast Lift™ adds volume by way of a dermal filler to all the "right places," followed by a proprietary polishing and sculpting process using platelet rich plasma (PRP).
O-Shot®
The O Shot is an absolute game changer when it comes to improving vaginal lubrication, sensitivity, intensity and ease of orgasm, and, as a "side effect,'"often resolves urinary incontinence.
Priapus Shot®
The Priapus Shot, ® (also known as the P-Shot) is designed to deliver lasting improvements in sexual performance to men, and restores function due to prostate enlargement, prostate cancer, the after-effects of surgery, drug side effects and other conditions such as diabetes.
With 33 years of medical experience, Reno, NV physician, William Clearfield, D.O. of the Clearfield Medical Group provides patients with successful treatment plans that benefit their health conditions and boost their overall quality of life.
Emphasizing diet, exercise and a healthy lifestyle, Dr. Clearfield was the "go to" guy when other physicians, even specialists at NYU and University of Pennsylvania were baffled, in his adopted hometown of Wilkes Barre, Pa.
"Clearfield has made the most dramatic difference in my quality of life; he is truly amazing!"
TREATMENT STRATEGIES FOR TRAUMATIC BRAIN INJURIES "He's my cousin," George said.  "I told his old lady I'd take care of him. He got kicked in the head by a horse when he was a kid.  He's awright.  Just ain't bright.  But he'll do anything you tell him." 1 TRAUMATIC...
read more
Contact at: Dr William Clearfield
9550 S McCarran Blvd b, Reno, NV 89523