3rd Global Webinar on Traditional and Alternative Medicine Certificate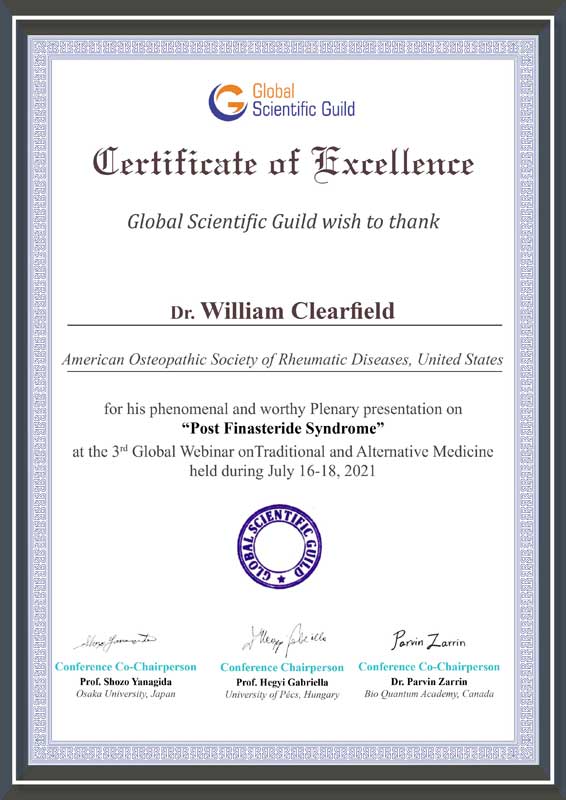 Oh HELL YES I will give a testimonial! But I would want to be sure I added that you were the FIRST DOCTOR IN MY 51 YEARS that actually walked me through my labs and listened to what I was experiencing where I felt like you actually heard me!! Pretty much I tell anyone who listens about you 😛 I was giving blood at Vitalant, the guy said my hands were cold. I said yeah, thyroid, he said, oh my wife too….I said she must talk to Dr. Clearfield and gave him your number.
Dr. Clearfield changed my life.
I was diagnosed with hypothyroidism in 2007, shortly after the birth of my son. My primary care doctor said treatment was as simple as a maintenance medication daily. I went with that notion (just take your pill) for a long time, and just thought, ok, well, this is what my middle age looks like. As I entered perimenopause, my body started changing drastically. I did not feel like me. It was like my energy was on empty all the time. I could not wake up with my alarm in the morning, regardless of getting plenty of sleep. I was EXHAUSTED after any simple task, like taking groceries out of the car. I started noticing puffiness everywhere. Swollen fingers. Aching joints. Mind fog constantly. Mixing up words (to the point it started to get unnerving.) Massive anxiety (like full blown panic attacks, hyperventilating the whole 9 yards.)
I brought this battery of symptoms to my regular doctor. Though she gave me an empathetic nod, the "diagnosis" was that my labs were "normal" and it's "just menopause."
Be your own advocate. Know that you need to speak with a hormone and/or endocrine specialist. IT IS NOT JUST MENOPAUSE.
If you know that you are not feeling like yourself, and that you are missing out on life, PLEASE CALL DR. CLEARFIELD. In three months' time, I have dropped twenty pounds. I FEEL CALM, regularly. Like so calm it's like a whole new feeling that I high five myself for having. I wake up before my alarm. I get up and go for a walk. I have energy. I feel optimistic. My head is clear. I am more effective at work.
When I met Dr. Clearfield and rattled off my ailments, he understood where I was coming from. He connected the dots. He is the first doctor that literally went line-by-line through my labs (and there were LOTS of labs) and explained where I was. He explained the prescriptions and supplements he was recommending. I felt like he was my partner in healing.
I felt like I was a chemistry experiment gone wrong, and that I was failing life. I feel like I'm getting an A in Chemistry class now. I am optimistic. I am encouraged. I am eternally GRATEFUL for finding Dr. Clearfield.
Testimonial from Pam R., Reno Nevada Dated: July 12, 2021
Dear William Clearfield,
June 21, 2021
I would like to formally and sincerely express my gratitude on behalf of Team OYG for the amazing work you accomplished with your contributions in this COVID time.
Your overtime work editing and framing and presenting creatively the video session, shows your expertise, exceptional work ethic and commitment to our field's success.
Without your willingness to put your other work on hold and take on such a great responsibility and workload, we would not be able to reach so many people. The entire team is incredibly thankful for you.
Once again, thank you sincerely for your drive and hard work. We look forward to your future success with our Team!
Bioidentical Hormone Therapy Success Stories
I am a 47 year old woman who has been suffering with chronic joint pain and insomnia for years. I have been to 2 Northern Nevada doctors over the years and complained of my pain and insomnia. I was suffering from mood swings and intense hot flashes as well. I was told I was perimenopausal and that there was nothing that could be done for me. The joint pain was becoming more debilitating as time went on, yet my doctors would not listen to me. In June of this year I had my blood work done by yet another new Doctor. I was sure the results were something horrific like cancer or whatever crazy diagnosis I found online. Much to my dismay. I was told everything was within the normal range. I thought, well girl this is what getting older is and I must be a complainer with a very low threshold for pain! Thankfully a dear friend of mine who had been begging me to see Dr. Clearfield for the past few months demanded I go see him once! I brought in the results of my blood work from 2 weeks prior and talked with Dr. Clearfield about my symptoms. He ordered new blood work and discovered I have a thyroid deficiency called Hashimoto Disease! I was so thrilled to know I was not a hypochondriac! He started me on a treatment plan and within a week my joints stopped aching!! He also talked to me about a gluten free diet. In 4 weeks I lost 11 lbs with the RX and diet suggestions. I'm easing back into exercise as it no longer hurts to move. My hot flashes are a thing of the past. I still suffer from insomnia but am having some more blood work done tomorrow and have no doubt in my mind Dr. Clearfield will help me figure this out! I am eternally grateful for Dr. Clearfield for changing the course of my life!
Taylor G., Reno NV.
Clearfield has made the most dramatic difference in my quality of life; he is truly amazing!
M.M. Sparks, NV.
Lost 50 pounds and feel great. Hot flashes and arthritis are gone. He is a ROCK STAR!
E. Reno, NV.
Fantastic bedside manner!!! Super Doctor!!! great staff ,friendly always informative.
J. Reno, N.V.
Clearfield's approach to medicine was way beyond most back here. In Northeast Pennsylvania. I miss him and I am having one heck of a time. trying to find someone to replace him.
M.C. West Pittston, Pa.
Dr B is amazing!!! Can't wait to see what he comes up with next!!!
S., Reno, NV.
So far Dr and his staff have been excellent,very thorough in evaluation and game plan to get me in tip top shape! Looking forward to many years of service!
Ken Howard
Hard to find a doctor that listens to patients and takes time, but Dr Clearfield does. He is even willing to learn more from his patients. Really nice person who cares. A+
First Light
Dr. Clearfield and his staff are great! I have been working with him on getting my hormones regulated/hormone replacement and he is the most knowledgeable and experienced doctor I have seen for this treatment. The thorough blood work panel that he requests gives a very in-depth profile which helps him decide which treatment route is best as well as ruling out any other potential deficit areas. I highly recommend Dr. Clearfield as I think many women have deficits that the standard treatment of care does not identify.
 Amy Bodensteiner
Knowledgeable, thoughtful diagnostician. Personable and warm staff. Great products, including high quality, reputable CBD oil.
Phillip Zinn
I have been seeing Dr. Clearfield for several years for hormone replacement therapy. He is the most thorough/knowledgeable Dr. I have seen for this treatment as well as affordable. He genuinely cares for my health, appointments are easy to get, and he spends quality time discussing my health needs. I highly recommend Dr. Clearfield.
Cephas Paxton
Contact Dr. William Clearfield
9550 S McCarran Blvd b, Reno, NV 89523