Medical Doctor and Reno Acupuncturist 5 Star Review
Dr. William Clearfield moved to Reno a few short years ago and has quickly established himself as the go to doctor for alternative health and functional medicine.  He travels and lectures across the United States in creating a buzz of excitement in medical solutions when others struggle to find an answer with conventional thinking.  Being an acupuncturist in Reno as well as a medical doctor allows Dr. C. to combine the best of Eastern and Western Medicine.
We're proud to share our most recent 5-star review.  Our team works hard to make everyone happy so these positive reviews are very motivating and now we're thrilled to share this one with you.  It should come as no surprise that we love hearing from people that are happy and satisfied and this review is no exception in showing our
dedication to superior service.  This is review is very inspiring but don't take their word for it, we're confident that you'll love the value and attention to detail that our team delivers.
We are glad you had a chance to come and visit us and read and watch this today.  Please feel free to ask us any questions about how a Medical Reno acupuncturist can give you an alternative health solution.  Call for your free consultation.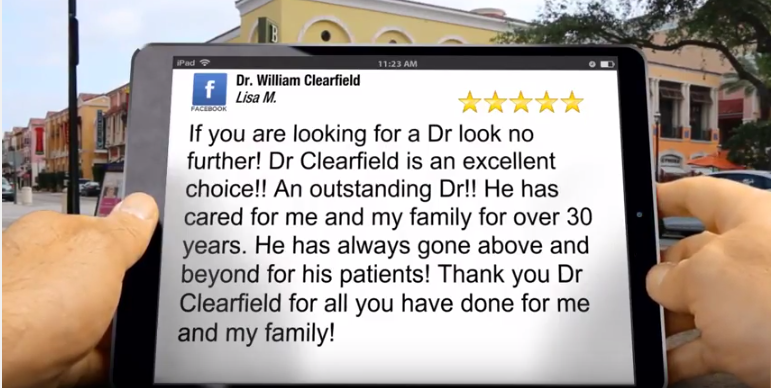 Call for your free consultation today.
Lisa M says:
"If you are looking for Doctor, look no further! Dr Clearfield is an excellent choice!! An outstanding Doctor! He has cared for me and my family for over 30 years. He has always gone above and beyond for his patients! Thank you Dr. Cearfield for all
you have done for me and my family."
William Clearfield DO
Reno Acupuncturist and Medical Doctor
Address : 9550 S. McCarran Blvd., Suite B
Reno, NV 89523
Phone : 775-359-1222
Fax : 888-977-3503
Email : doctrbil9@gmail.com
Website : drclearfield.net
Please follow and like us: