Reno Acupuncturist Dr. William Clearfield
Dr Bill as he is known has over 33 years as a medical doctor and over 25 years of acupuncture experience and training.   The Clearfield Medical Group provides patients with successful treatment plans that benefit their health conditions and boost their overall quality life many times incorporating the Reno acupuncturist mindset as an alternative health solution and this one of many raving reviews shows that they are on the right track.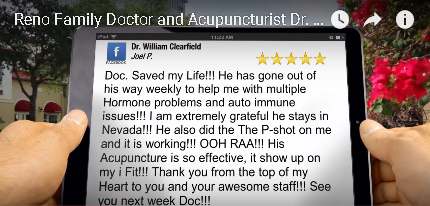 Here at Clearfield Medical Group in Reno has a goal to give everyone a five-star experience and it's great to know that our efforts are so appreciated. Here's a fantastic review we're happy to share right now. This kind of feedback is so important to us because it lets us know we're doing a great job for everyone and that just motivates us even more to keep providing the best service we can for years to come and we'd love to leave you raving as well. You will discover the real meaning of great service and satisfaction when you work with us. We're confident you'll
appreciate our attention to quality. We really appreciate you stopping by and reading about and watching our video.
We're happy to answer any questions you might have.  When you are looking for alternative health solutions that combine Eastern and Western medical practices, look for a medical doctor that is the best acupuncturist in Reno.
We are only one call away from serving you.
William Clearfield DO
Address : 9550 S. McCarran Blvd., Suite B
Reno, NV 89523
Phone : 775-359-1222
Fax : 888-977-3503
Email : doctrbil9@gmail.com
Website : drclearfield.net
Please follow and like us: